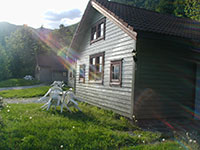 Outside cabin 5
Welcome to Alsaker Hytteutleige
Our family has six cabins that we let to holiday guests from the middle of June until the middle of August. The cabins are in a sheltered setting on our small farm and have good views of the village, the fjord and the mountains.
The cabins are within walking distance of the shops, restaurants and pubs in the community of Nordfjordeid in Eid Municipality. The architecture in the centre of Nordfjordeid is mostly 19th century in style, which contributes to the old-fashioned homely atmosphere.
Accommodation
We have two different sizes of cabin for let:
Cabins 1, 2 and 3 are 42 square metres and most suitable for four persons.
Cabins 4, 5 and 6 are 50 square metres and suitable for six persons. Two beds in a half-loft.
The smaller cabins have four beds, but the sofa in the living room can be made into a bed for two additional persons if necessary. These cabins also have hot plates, but no oven.
The larger cabins have cookers and larger refrigerators, but otherwise the six cabins are all identically equipped.
Furnishings/equipment in the cabins
Winter-insulated, well-equipped holiday cabins. Two bedrooms, each with two beds. Duvets and pillows supplied. Bed linen can be rented for NOK 75 per set. Living room with kitchenette, dining table and suite. The kitchenette is fully equipped with dishes etc. for six persons.
Refrigerator and coffee machine. Bathroom with shower, WC, wash basin (hot and cold water). Each cabin also have a washing machine.
All the cabins have TVs and Wi-Fi. Each cabin has its own outdoor area with garden furniture and access to a barbecue grill. Plenty of room to "spread your wings" around the cabins and access to nature areas suitable for play and recreation. Family-friendly.
Prices
Price per night for cabins 1, 2 and 3: NOK 650
Per week NOK 4200
Price per night for cabins 4, 5 and 6: NOK 750
Per week NOK 4900
Boat hire
Alsaker Hytteutleige has a 15' glass fibre boat (4 pers.) with an outboard motor for hire. The price per hour is NOK 75. Life jackets can be borrowed from the owners. The boat is moored in the guest marina in Nordfjordeid. Fishing in the sea is free.
Activities and experiences
There is plenty to do and see here in Nordfjord. There are lots of good walks and opportunities for fishing in the sea, in rivers and in lakes.
Look for more information at Visit Nordfjord.
Fishing
In recent years, the Eidselva river has been the best salmon river in Sogn og Fjordane county in terms of the number of salmon of more than seven kilos caught.
Golf
New 9-hole golf course opened in 1999. Situated in an idyllic setting beside the Eidselva river, which means you can combine golf with salmon or trout fishing.
Horses
Riding camps, ride and drive trips, mountain riding trips, day riding trips or trips lasting two or three hours.
Tel.: +47 57 86 48 00
E-mail: post@norsk-fjordhestsenter.no

This riding centre has 21 Icelandic ponies and offers one-week riding camps, weekend camps, day riding trips and riding by the hour, all in beautiful West Norwegian scenery.
Nordfjordeid is also an excellent base for day trips to Geiranger (65 km), the Briksdalsbreen glacier (87 km), West Cape (82 km) and the monastery island of Selje , and the bird cliff on the island of Runde (99 km).
Alsaker Hytteutleige
6770 Nordfjordeid
Tel. 911 38 975
E-mail: st@alsakerhytte.no
Map: Google Maps